Drool-Worthy Grazing Tables Now Trending On Insta
All our minds were blown at the start of 2020 when food blogger Sandy Coughlin (@reluctantentertainer) revealed the greatest grazing board concept known to man: the jacket potato platter. If you didn't catch the magical moment when Sandy brought this invention into the world, allow us to a paint a picture for you. Imagine twelve large, roasted potatoes arranged in a circle around bowls overflowing with chilli, sour cream, guacamole, bacon, cheese, pico de gallo and more… Yep, we wouldn't be surprised if you passed out for a second there just thinking about it all!
With bloggers and event catering companies constantly upping the ante on the art of food platters, it doesn't look like the grazing craze will be going away any time soon. While grazing tables have always been a popular choice for weddings, birthdays and other leisurely events, the movement is now making its way into the corporate world. Offering an eye-catching aesthetic and the freedom to pick and choose individual ingredients, grazing table catering could be exactly what your next corporate event needs.
Following in the footsteps of Sandy and her potatoes, we went looking for more epic grazing board ideas to provide you with some corporate catering inspiration. So, without any further ado, check out some of the most drool-worthy grazing platters that are trending on social media right now.

Flavoursome Fruit Platters
With sweet and sour flavours, vivid colours and a variety of textures, fruit is the perfect choice for grazing table catering. You could heavily feature fruit in your spread or stick to a platter of assorted varieties. Either way, your catering is sure to be a hit!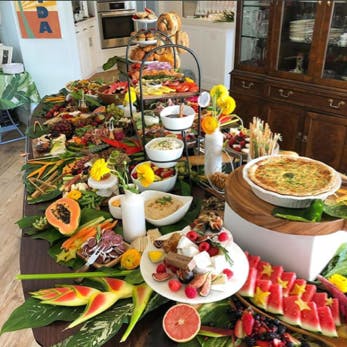 @kampers_kitchen - Boca Raton, Florida
Kamper's Kitchen certainly knows how to put on a morning tea. Featuring a whole papaya, watermelon slices, berries and grapefruit, this platter uses fruit to balance out its many other sweet and savoury options. What makes this arrangement stand out is its use of levels and tropical foliage.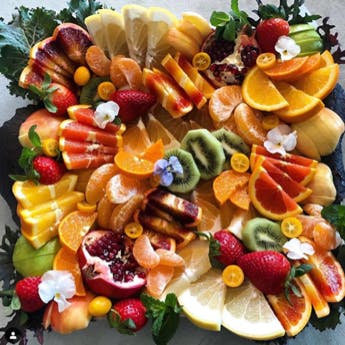 @figandhoneylavishgrazing - Fresno, California
All fruit and all fabulous. Fig and Honey have combined seasonal fruit varieties with edible flowers to come up with this gorgeous creation. With kiwi fruit, blood orange, strawberries and more, the food stylist has gone for a rainbow of rich colours to draw the eye.  
If you want to use a fruit-based grazing platter at your office event, check out The Catering Department in Sydney or Fingers and Forks in Brisbane.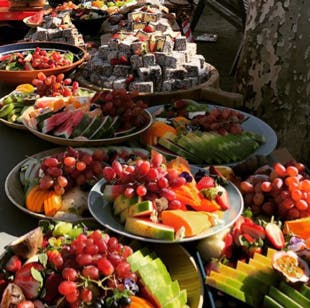 @thecateringdepartment - Sydney, New South Wales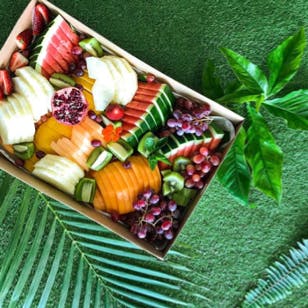 @fingersandforksbrisbane - Brisbane, Queensland
Sweet Treat Platters
Prepare yourself for a sugar overload with these super sweet grazing tables. Perfect for an office morning tea or as a dessert platter at a corporate event.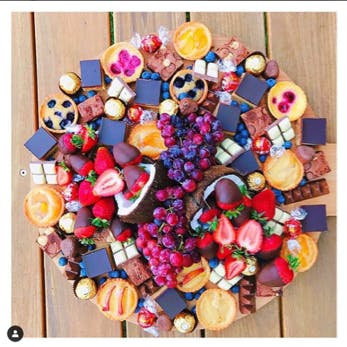 @picnicbythesea - Kiama, New South Wales
Caramel slices and muffins with berries. Baked custard tartlets and chunky choc brownies. Strawberries dipped in chocolate coatings. These are a few of our favourite things!
Picnic By The Sea has created a beautiful balance of colours and shapes for this circular dessert platter. With fruit, wrapped chocolates and baked goodies, it has something for every kind of sweet tooth.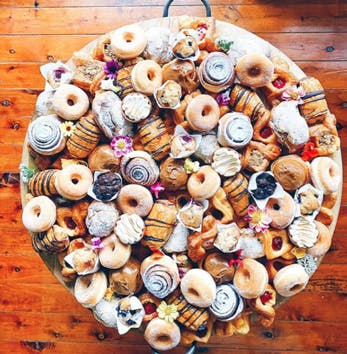 @platterupco - Sydney, NSW
Get a load of these pastries! Donuts. Croissants. Cinnamon scrolls. The absolute works. For daring to put together this sugar coma-inducing monster of a platter, the Platter Up Co. gets a thumbs up from us.
 If you want to serve up a dessert grazing table at your next event, try ordering corporate catering through My Alter Ego Catering in Brisbane or Bella Catering & Events in Sydney.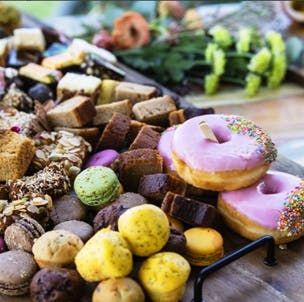 @myalteregocatering - Brisbane, Queensland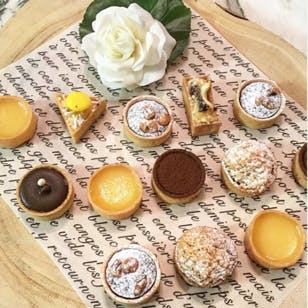 @bellacateringandevents - Sydney, New South Wales
Healthy Grazing Tables
Depending on the type of event you're hosting and the audience that you're looking to attract, it may be appropriate to have a platter filled with healthy food choices. When it comes to nutritious and delicious grazing tables, these ones take the cake… wait, no – the kale!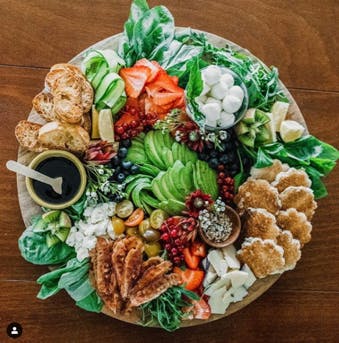 @sage_and_honey_ - Fire Mountain, Oceanside
Avo look at this! Featuring argula, cucumber, currants, tomatoes, lemon and an avocado centrepiece, this arrangement from Sage + Honey offers the best middle ground between a decadent food platter and healthy alternatives. Using unusual ingredients to create a distinct aesthetic, this grazing board is getting attention for all the right reasons on Instagram.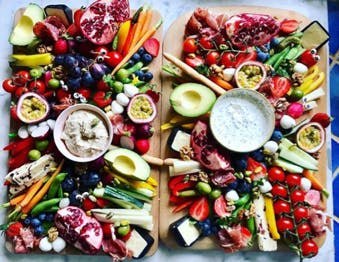 @healthyfamilyfoodideas - Cowbridge, Wales
It's like tetris – fruit and veg style. With a stunning contrast of shape and colour, this geometric, healthy food board is jam packed with goodness. Carrots, peppers, radishes, tomatoes, sugar snap peas and avocadoes have been paired with olives, berries, nuts and hummus to form the masterpiece you see before you.
When in need of healthy grazing table catering, you could reach out to Petit Prince Gourmet in Melbourne or Chomp Life in Sydney.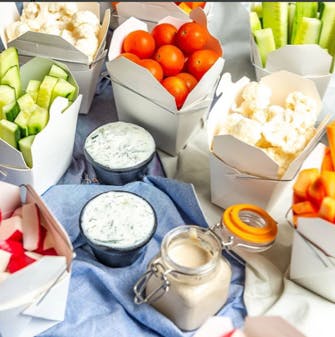 @petitprincegourmet - Melbourne, Victoria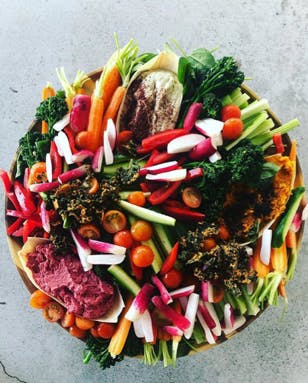 @chomplife - Sydney, New South Wales
Traditional Cheese Boards  
You really can't go wrong with a traditional cheese board. But while it may seem like a simple exercise, there's a lot more to it than plonking down a couple of blocks of brie with some crackers.
Just like all of the other platter examples, style and flavour have to be carefully considered on a cheese board. Thankfully, there are many complementary foods that can be paired with different cheese varieties to create a sophisticated grazing table.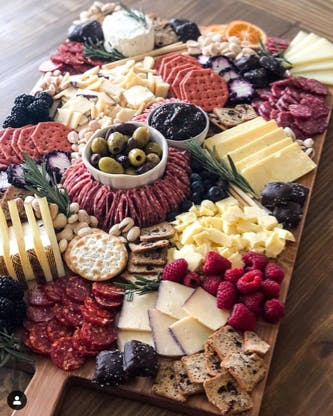 @fromageandhoney - Abilene, Texas
An absolute classic. Fromage and Honey have included all of the well-loved cheese and charcuterie board toppings, with prosciutto, salami, pistachios and raspberries alongside a range of cheese types. Using sprigs of rosemary for decoration and the natural, wooden board, the aesthetic of this cheese platter could not be more perfect.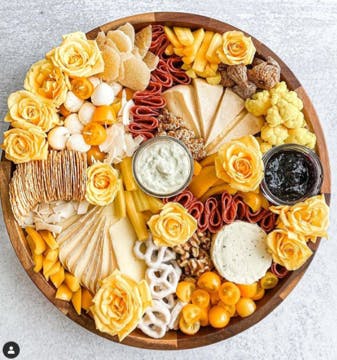 @cltcheesechick  - Charlotte, North Carolina
You can see why Tori from CLT Cheese Chick has called this creation the "ray of sunshine". A modern twist on a typical cheese board, this platter makes the most of warm, yellow tones with candied ginger, coconut chips, yellow tomatoes and pickled turmeric cauliflower. Featuring gourmet cheese varieties and decorative yellow roses, this board would certainly lift the mood at any event.
If you're wanting a classic cheese board, reach out to Firecracker in Melbourne, or for something a little different you could enlist Sydney's Cheese Celebration.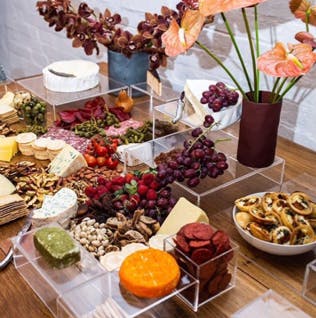 @firecrackerevent - Melbourne, Victoria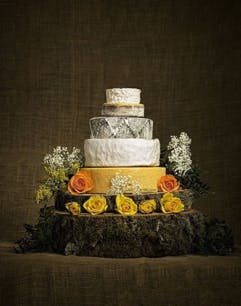 @cheesecelebration - Sydney, New South Wales
Unique Grazing Tables
Wow your guests on a whole new level with a grazing table that goes above and beyond expectations. From themed platters to unique ingredients, there are so many ways you can subvert the traditional tasting board experience at your corporate event.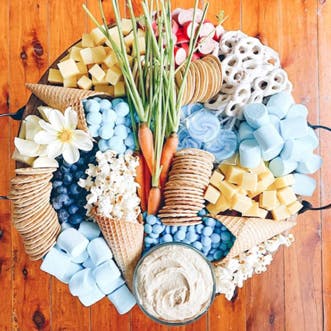 @platterupco - Sydney, New South Wales
How adorable is this Peter Rabbit inspired board by Platter Up Co? A lot of thought has been put into this platter, with the use of colours, toppings and decorations associated with the movie. By customising your catering to your event, you will be sure leave an impression on your guests.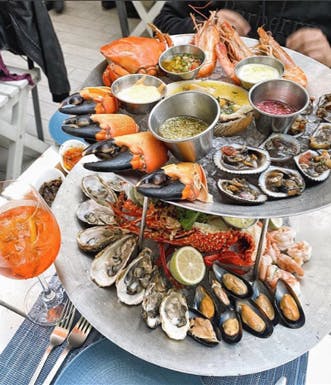 Photo by @marasofianegra - Shot at @zfoodquito
Ecuador
Who said a grazing table couldn't be a seafood platter? This impressive spread by Z Food restaurant in Ecuador shows how oysters, mussels, lobster and more could be arranged in a high tea set up. Dietaries permitting, a seafood grazing board could give your corporate event and edge.  
Some catering companies will be willing to collaborate with your company to come up with a completely unique grazing table concept. To get something a little different, you could see what Studio Neon in Sydney has up its sleeve.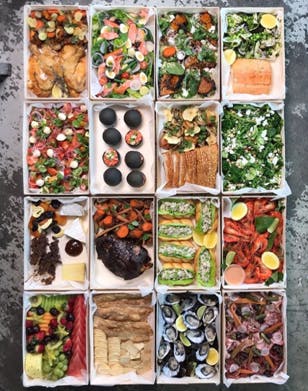 Organise Grazing Table Catering
Discover something new. Order a grazing platter for your next event with Yordar, your portal to a new world of food choice. Our easy to use, online platform gives you exclusive access to the best corporate caterers in your area. Trial Yordar